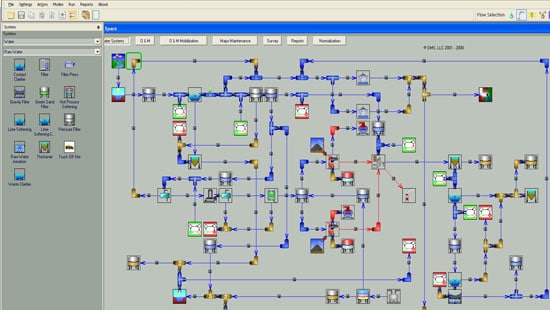 Predictive Modeling Services
Nalco Water owns Data Mobility Systems (DMS), a software and engineering firm that has built an Advanced Modeling System (AMS) to predict water treatment needs and gas turbine maintenance for owners, developers and engineers. We are able to supply information based on data that can range from a bare minimum of data at a project's inception through to in-depth review using detailed water analysis. Once the water analysis is set, plant designers and engineers can request revisions creating "what if" scenarios to finalize their design.
Predictive Modeling Software Overview
DMS has consulted on over 400 systems in various capacities and our information has been used for over $24 billion of new power plant investment globally.
DMS has already programmed AMS, our modeling software, with the information to create plants virtually. We drag, drop and connect water system components, then enter your water analysis and chemical plan. The software does the rest. From simple designs to the complex which can involve several recirculation loops, AMS is powerful to provide better information for better decisions.