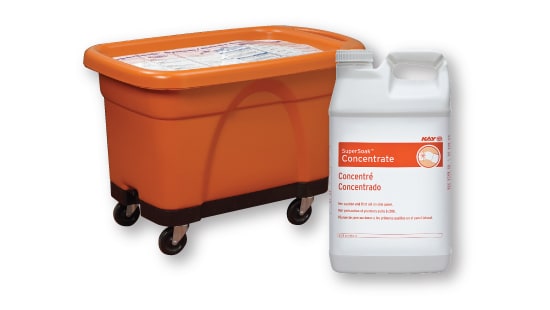 SuperSoak™ Concentrate
Decarbonizing Power made safer, faster and easier. Regular use of SuperSoak™ Concentrate dramatically improves pan cleanliness, extending pan life over time.
Powerful Cleaner for Soaking Pots, Pans, Utensils and Equipment
KAY® SuperSoak™ Concentrate is a proprietary blend of surfactants, alkalinity, and a metal protecting agent designed to delivery powerful soil removal without requiring personal protection equipment.
Supersoak Concentrate:
Softens heavy grease and carbon buildup
Cuts cleaning time in half
Pans, pots and utensils last longer
Requires no gloves or goggles
Aluminum-safe
Real world time studies have confirmed that using KAY SuperSoak Concentrate significantly reduces the amount of time spent washing pots, pans, utensils, and equipment and gets wares cleaner in the process. Using SuperSoak Concentrate also significantly extends the life of your wares.