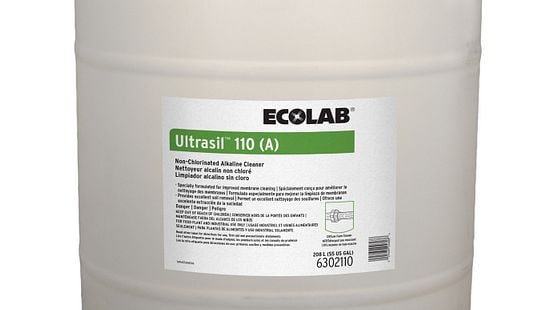 Ultrasil™ 110 Alkaline Cleaner​
Our non-chlorinated alkaline cleaner is specifically designed for cleaning reverse osmosis, ultrafiltration, nanofiltration and microfiltration membranes in processing systems. Ultrasil™110's liquid formula is easily dispensed, preventing overuse and prolonging membrane life. A fast rinsing time and excellent soil removal improves membrane performance and increases your output.
Product Features
Promotes increased production through excellent soil removal properties and built formula to reduce rinse time.
Promotes increased efficiency with a liquid formula designed for automated dispensing and control.
Helps to reduce overuse and avoid high concentration spikes that protects your membrane lifespan.
A no phosphorus formula.



Related Ultrasil™ Membrane Products
No related products were found.

Ultrasil™ Membrane Articles and Customer Success Stories
No related case studies or articles were found