Why Choose Ecolab Scientific Clean Products?
Since our founding 100 years ago, Ecolab has partnered with professionals to make the world cleaner, safer and healthier. 
From hospitals and restaurants, to manufacturing and production facilities, our science backed cleaning solutions have been 
hard at work behind the scenes. And now, we're proud to offer a new product line that offers cleaning solutions for 
commercial, residential and industrial use, available exclusively at The Home Depot.
Backed by years of expertise in the science of cleaning, the new retail line of Ecolab Scientific Clean products are designed for the toughest jobs and can be used for bath, kitchen, flooring and outdoor projects.​
Featured Products
Floor Cleaners and Finishes
Pressure Wash Concentrates
SHOP NOW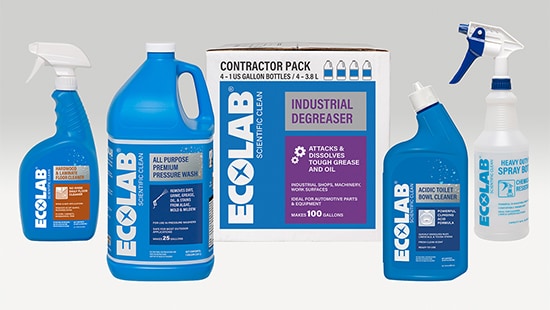 Ecolab Partners with The Home Depot to Launch Consumer Retail Product Line
Ecolab brings its science-backed solutions to pros and everyday consumers with the launch of its retail product line, Ecolab® Scientific Clean.