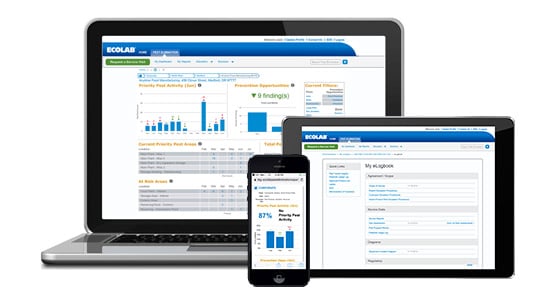 Pest eLogbook
The Ecolab eLogbook is designed for Food and Beverage facilities to provide online access to the essential documents and trending data required 
for third party audit compliance. Available on the secure and safe Ecolab Customer Portal, the eLogbook allows you to filter the data, monitor activity 
and get detailed charts and reports. These powerful Pest Insights will help streamline the audit process and enable you, and Ecolab, to make critical decisions in preventing pest risk.
eLogbook Benefits Compared to Paper Logbook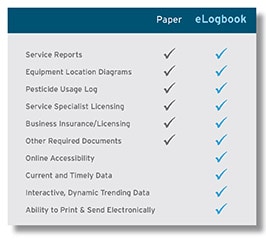 The eLogbook gives you more control over the auditing process. You'll have central access to your pest service data along with electronic copies of the required documents needed for GFSI (Global Food Safety Institute) and AIB 3rd party audits.
Easily Access Information
Spend Less Time Preparing for Audits
Get Actionable Insights to Monitor and Track Your Pest Program
Get Actionable Insights to Reduce Pest Risk