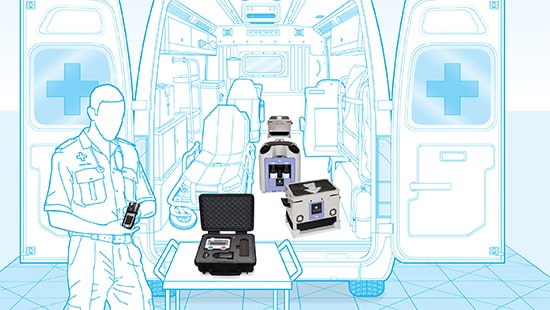 Vehicle Decontamination for Emergency Medical Services
After a sick patient is transferred out of your emergency vehicle, how do you ensure that the space is clean and ready for the next patient? Bioquell offers a proven solution to bio-decontaminate the surfaces inside your EMS vehicles.



About Our Emergency Vehicle Bio-decontamination Solution
To bio-decontaminate the interior of an ambulance, this specialized Ecolab solution relies on a few important pieces of Bioquell technology:
How EMS Vehicle Bio-decontamination Works
Watch the step-by-step process to prepare a vehicle for bio-decontamination.

Programs, Products, Equipment and Services
Explore our Vehicle Decontamination for Emergency Medical Services Offerings
We couldn't find any results for "".
Request a Quote
Are you looking for an efficient way to routinely bio-decontaminate your EMS vehicles? Bioquell can help. Use this form to request a quote, and we'll be in touch soon.