A Guide to Selecting the Right Hand Hygiene Compliance Monitoring Solution for Your Hospital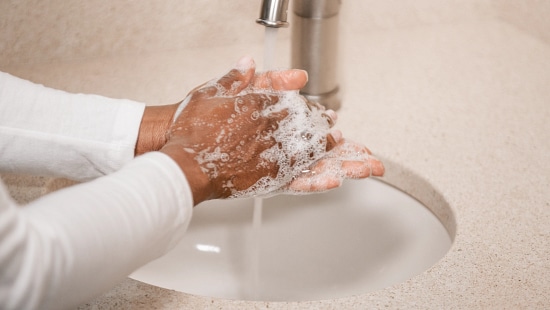 Over the last decade, a new hand hygiene compliance monitoring method has gained in popularity: automated or electronic hand hygiene compliance monitoring (EHHCM). Several EHHCM solutions exist, offering a variety of unique ways to collect compliance data and influence hand washing behaviors. The opportunity for hospitals to make compliance improvements with this technology is great but selecting the right solution to match a hospital's specific goals and needs can be challenging. How does a hospital assess the quality of a third-party compliance monitoring system to ensure it is setting itself up for long-term success? Here are a few things to think about when evaluating an electronic hand hygiene compliance monitoring solution and questions you should ask the vendor to ensure the solution you select suits your hospital and supports its hand hygiene compliance goals.
Learn More about Ecolab's Electronic Hand Hygiene Compliance Monitoring System
The Ecolab® Hand Hygiene Compliance Monitoring System allows you to accurately record hand hygiene events by individual, holding each healthcare worker accountable for their compliance and providing actionable guidance for improvement. This helps you achieve and sustain results, deliver better patient outcomes, provide a safer working environment for staff and protect margins for your hospital.
Learn More
5 Things to Consider When Evaluating an EHHCM Solution
What is being Monitored?
How Accurate is the Monitoring Data?
How is Monitoring Data Reported?
What is the Installation Process?
What Training and Service are included in the Purchase Price?
Download Article