A Critical Factor in Combating SSIs: Central Sterile Environmental Hygiene
The work that is done in the Central Sterile department (CSD) is critical to help prevent surgical site infections (SSIs), along with other factors like compliance with a robust infection prevention program. The physical environment in CSD arguably contains some of the most contaminated (Decontamination) and the most hygienically clean (Prep and Pack) areas of the hospital. Environmental hygiene in this department is critical to ensure that reprocessed surgical instruments are free from contamination that could impact patient outcomes.
As such, daily terminal cleaning and disinfection of all horizontal surfaces and floors in CSD is recommended by the Association for the Advancement of Medical Instrumentation (AAMI), the Association for PeriOperative Registered Nurses (AORN) and the Association for the Healthcare Environment (AHE).
When to Clean
Terminal cleaning should occur when personnel are not actively decontaminating instruments. Cleaning should proceed from cleanest areas to dirtiest areas to prevent cross contamination. Prep and pack and sterile storage should be cleaned before the decontamination work areas. A multidisciplinary team (e.g. CS, EVS, IP) should determine how often and the extent of cleaning needed when the department is not occupied (e.g. weekends) or rooms are unused. For instance, the team may decide that terminal cleaning is not required if personnel have not been in closed areas. Similarly, a multidisciplinary team should determine the frequency of cleaning of areas such as dumb waiters, ventilation ducts, sterilizers, walls and ceilings if they are not included in terminal cleaning.
What to Clean
Horizontal surfaces on this high-touch object wall card should be terminally cleaned daily when the area is in use. This card is part of the Ecolab Central Sterile Program and has been awarded the AORN Seal of Recognition.*
How to Clean
Here are some tips working with chemicals and best cleaning practices to ensure optimal cleaning and disinfection.
Working with Chemicals
Always wear appropriate personal protective equipment (PPE) per hospital policy and according to manufacturer's instructions for use for chemistry being used, and reference the SDS before initiating work to understand any associated hazards or PPE requirements.
Always check the expiration date on chemicals.
Follow manufacturer's instructions for use when dispensing and applying cleaners and disinfectants.
Never mix chemical products as this can cause harmful gasses or make chemistry ineffective for its intended purpose.
Label secondary containers to prevent chemical mixups and ensure compliance with EPA and accrediting agencies.
Do not use trigger spray bottles as they cause aerosolization of dust, which can contaminate the environment.
To prevent contamination, do not "top off" chemical bottles.
Discard chemicals according to manufacturer's instructions for use. Reference the chemical's SDS for disposal information if unsure.
Cleaning Best Practices
As is always the case in healthcare environmental hygiene, basic best practices for cleaning and disinfection should be followed to optimize cleaning efficacy and efficiency and to prevent cross contamination.
Remove visible soil before disinfecting. Organic material can inhibit the effectiveness of disinfectants.
Keep the surface wet for the contact time stated on the EPA registered disinfectant label to ensure disinfectant effectiveness.
Use a low-linting cleaning cloth to prevent lint from contaminating surgical instruments.
Change your cleaning cloth when:

It is visibly soiled
It dries out
It drops on the floor
You move from dirtier to cleaner surfaces
You move from one area to another (e.g. Prep and Pack to Decontamination)
Don't double-dip cloths or mops back into containers as this practice contaminates the cleaning/disinfectant solution
Don't shake cloths or mop heads. Shaking can cause aerosolization of dirt and debris.
According to AORN, clean Sterile Storage areas first, then Prep and Pack, then the Decontamination area, so you are progressing from cleanest to dirtiest. Within each of these areas, clean in a systematic way – clockwise or counter-clockwise.
Focus on high-touch objects – surfaces that are frequently touched by staff, or that come in contact with instruments.

Clean from top to bottom to prevent dust and debris from falling on newly cleaned areas
Move from clean to dirty
Move from dry to wet
Use friction – wipe vs swipe surfaces
Overlap strokes with cleaning cloth to ensure full coverage of the surface
How to Monitor and Document Cleaning Effectiveness
Both AORN and AHE recommend a comprehensive assessment of the cleaning practices in the Central Sterile Department. This includes monitoring and providing feedback on the thoroughness of cleaning. In addition to visual inspection, an objective measure of cleaning thoroughness should be performed, and the results provided to the Environmental Services and Central Sterile Department staff. Programs that incorporate monitoring such as DAZO® Fluorescent Marking Gel are clinically proven to improve thoroughness of cleaning in hospitals.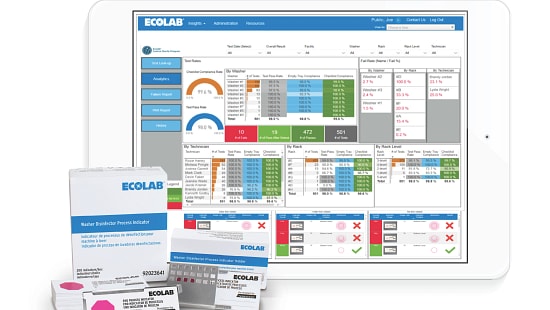 Ecolab Central Sterile Program
* The AORN Seal of Recognition has been award to Ecolab's Central Sterile High Touch Object Card on July 14, 2020 and does not imply that AORN approves or endorses any product or service mentioned in these materials. The AORN Seal of Recognition program does not include any CE credit for programs.