How Top-Notch Food Safety Practices Can Help You Weather the Pandemic – and Thrive Well-Beyond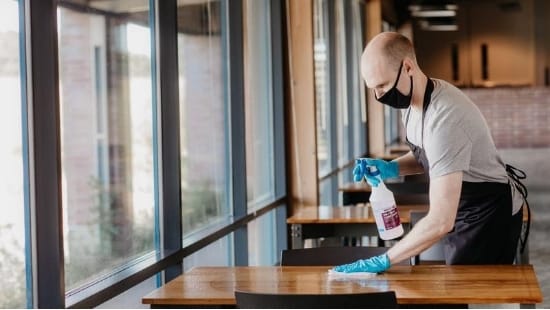 How important is food safety these days? Dealing with a once-in-a-century pandemic, it may be tempting to think that it can take a back seat for a while, but nothing is further from the truth. In fact, in a recent survey of 4,500 consumers around the world, more than 55% of respondents identified food safety as the No. 1 topic they'd like more information about when considering their next meal or shopping run, ahead of personal health concerns related to ingredients (53.4%) and far outstripping environmental (38.4%) and social issues (34.7%).
That's why food safety should be at the top of the agenda, despite all the other concerns related to SARS-CoV-2. We can't let our guard down. In month six of the pandemic, we're well past the first-response stage. We're now in a new phase where the emphasis is on resilience – making sure our employees are safe and our businesses can weather the storm with minimal damage and prepare for the world after the pandemic.
When the virus first hit, the food sector zeroed in on keeping staff, guests and customers safe. We obviously can't let our guard down on that front either. But the recent uptick in food recalls in the U.S. makes it clear that we must maintain our focus on food safety. The food safety practices and protocols we were applying before the pandemic are even more important while we're living with COVID-19 because our stakeholders are hyper-vigilant about anything that can negatively affect public health.
But business resilience isn't just determined by the hard work that goes on behind the scenes. The businesses that will make it through these challenging times – or even in better shape to face the post-pandemic future – will be the ones that win the trust of their customers.
Whether they are other businesses or consumers, these customers are more alert than ever about health risks and expect the best from the companies they do business with. That means they will have to see best practices implemented with their own eyes. While food safety has traditionally been mostly invisible to the customer, now you'll have to show your work. That's true for restaurants as well as retailers and food plants.
So, how can your company make sure it's among the winners? A few straight-forward steps come to mind:
Most important of all, you need a strong food safety culture: How do your associates think about food safety? How do they act? In a business or facility with a strong food safety culture, every employee does the right thing, regardless of who's watching. They feel confident that they can openly discuss food safety, bring up issues and implement solutions and improvement. They know that each and every employee is accountable for food safety and has a role to play.
Adopt best practices: The food industry changes all the time, but some hazards never go away. That's why any business in the sector should have solid routines in place to ensure foods are kept and cooked at correct temperatures, raw meats never touch ready-to-eat foods, everything is properly labeled and surfaces stay clean. In food plants, one of the main and frequently overlooked risks is the formation of biofilm, the often-invisible coatings of micro-organisms that can grow in hidden areas like gaskets and valves. Biofilms are the reason why foods can spoil for seemingly inexplicable reasons. But with easy-to-clean equipment, preventive maintenance and proper training, they can be prevented relatively easily.
Make sure food travels safely: Take-out and delivery is up significantly because of the pandemic and many providers have used online ordering and curbside pickup to make prepared meals more convenient. Chances are some of these trends will stick around. This means more food will be on the move and food safety practices must be adjusted accordingly. Packaging should maintain the food in the best condition and at the right temperature, and be closed with tamper-proof seal, stickers or tabs, so the customer can be confident they are the first to open it. Prep and delivery staff should practice good hand hygiene, wear face coverings and maintain social distancing at all times. Door handles, delivery bags and even steering wheels should be disinfected frequently.
Control for the human factor: No matter how good your protocols are on paper, don't forget they're being put into practice by people, who, especially in these times, have their own issues and stress factors to deal with. You should make it as easy as possible for them to do the right thing. Provide clear, comprehensive protocols that are easily accessible and understood. Make handwashing convenient with a dedicated sink. Provide the right products and keep equipment well-maintained. And above all, offer frequent training so every single one of your staff members knows exactly what to do to maintain a safe and healthy food environment. Remember, your goal is building deeply ingrained, lasting behavioral change.
Keep the pests away: You may have reopened your business recently. The last thing you want is to have customers coming back and seeing a rodent on the premises. To make sure that doesn't happen, maintain a high standard of exterior sanitation. Keep dumpsters closed and avoid spillage. Keep your exterior walls easily accessible for maintenance, trim your outside vegetation and keep weeds in check, so they don't become a hiding place for unwanted critters.
Get expert help: Every year, Ecolab supports kitchens serving 58 billion meals and helps protect more than 36% of the world's packaged food and 44% of the global milk supply, preventing 7.5 million foodborne illnesses. We offer food safety expertise from farm to fork. We can help you with training, technology and service tailored to the needs of your specific business and/or location(s). With decades of experience, we've seen it all. Chances are we can partner to help your business make it through the pandemic and thrive well-beyond.