Beyond recycling: How reusable packaging can revolutionize our shopping habits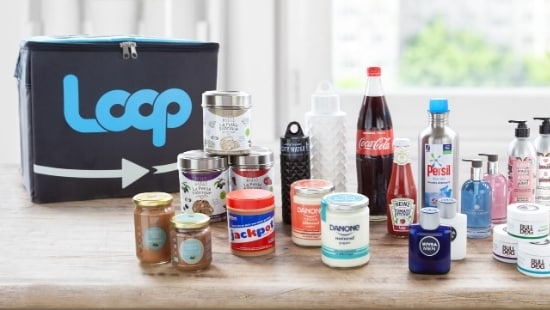 If you're like me, the pandemic has made you much more familiar with your own household waste. More time at home means no more business lunches, food truck runs or snacks at work, and fewer quick bites on the road. Whether you do your shopping in person or have moved your purchases online, almost everything you buy – and its packaging – now ends up at your home. And almost every single thing is packaged in paper, cardboard, aluminum and/or plastic, and often in multiple layers, to say nothing of the numerous shopping bags and shipping boxes.
Even before the pandemic, we produced a significant amount of waste. According to the U.S. Environmental Protection Agency (EPA), the average American produced 4.5 pounds (2 kg) of household waste per day in 2017. Europeans did better, but still produced 1.35 kg (3 pounds) of waste per person each day in 2018, according to Eurostat.
What about recycling? The EPA estimates that 75% of all waste in the U.S. is recyclable, but only 30% is, in fact, recycled. 91% of all the recyclable plastic in the U.S. still ends up in landfills.
The problem with plastic waste, is that it takes hundreds of years to decompose and it's everywhere. More than 8 billion metric tons of plastic have been produced and most of that was single use and has since been discarded. Plastic is also a pollutant, especially in the oceans, where tiny pieces of it accumulate in fish and other marine life. That's why the Consumer Goods Forum (CGF), of which Ecolab is a member has adopted reducing plastic waste as one of the global challenges it aims to help solve.
Packaging is by far the No. 1 source of plastic waste. So, the logical way to tackle the problem is by reimagining packaging. And one of the frontrunners in that effort is Ecolab partner, Loop.
Here's how Loop's unique model works: You place an online order for food or non-food products from your favorite brands. If you're in the U.K., for instance, you can do this via www.loopstore.co.uk in partnership with Tesco, the leading British retailer (and another CGF member), which has been piloting Loop. Kroger's and Walgreens are doing the same in the U.S. (www.loopstore.com).
The products are packaged in well-designed, reusable containers. Their environmental break-even point comes after only three uses, and they can be used ten times or more, after which point they're recycled.
These items are shipped to you in a reusable, insulated tote. When you're done with them, you put them back in the tote and schedule a free pick-up or drop them off for return shipping yourself. Before the containers are refilled by the manufacturers, they are cleaned and sanitized, so they're as good as new for reuse.
That's where Ecolab comes in. As a global leader in health and hygiene, we have decades of expertise in helping businesses produce safe food. In 2019, we supported clean kitchens that provided 58 billion safe restaurant meals. Just like we help restaurants make sure there are no unwanted soils and pathogens on the plates, glasses and silverware that go back out to the dining room, we make sure that Loop's containers are thoroughly cleaned and sanitized using the procedures designed by our experts.
It's no wonder Ecolab and Loop are such a good fit. We're driven by the same urge to innovate, boost efficiency, lower environmental impacts and, step by step, get closer to a truly circular economy. As of next year, we'll be taking our joint effort to the next level, when Tesco launches Loop in-store. Tesco is also driven to reduce its environmental impact and aims to remove 1 billion pieces of plastic from the products it sells across UK stores.
In addition to going online, shoppers will be able to pick up their brand-name products in Loop containers from their local Tesco. After use, they'll be able to deposit the empties at a drop-off point at the same store. It's a new option that will make the experience even more efficient and user-friendly.
Loop's in-store presence will open the eyes of additional consumers to the possibilities of more sustainable retail. It's no secret that people are placing an increasing value in knowing that the products they use are made, sourced and distributed responsibly. After the experience that many of us had in seeing single-use packaging pile up at our homes during the pandemic, we're confident that many will be ready to go beyond recycling, toward a more circular retail experience.
Nick Alfano is Executive Vice President and General Manager of Global Food and Beverage at Ecolab
Please join us as Nick Alfano moderates the special session "Reusing containers with confidence: How Loop, Tesco and Ecolab are launching the next generation of sustainable grocery shopping" during the Sustainable Retail Summit, on Friday October 16, 3:00 p.m. CET.
Panelists:
Tom Szaky, founder and CEO of Loop's parent company, TerraCycle

Giles Bolton, Responsible Sourcing Director at Tesco

Jim Rekoske, Senior VP of RD&E at Ecolab's Industrial Group