The ROI of Restaurant Cleanliness
How upping cleanliness makes good business sense when addressing the economic and public health challenges of the pandemic.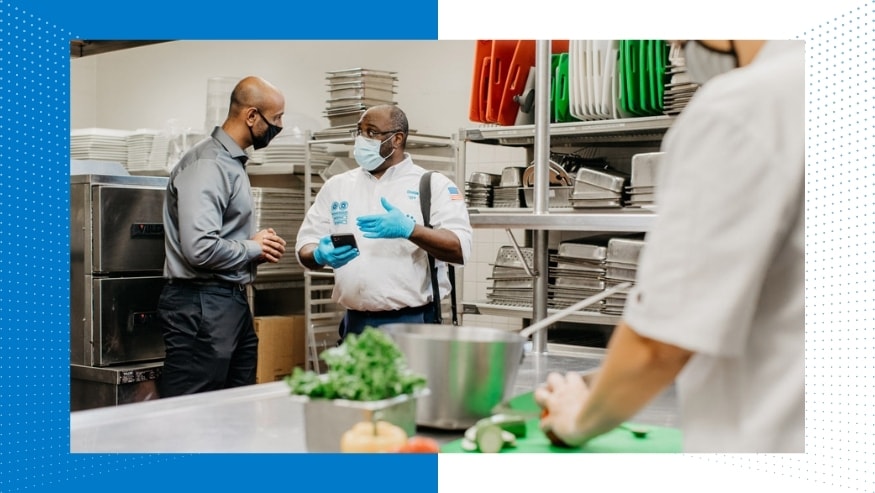 Though many restaurants have had their doors reopened for months, heightened consumer expectations and a new economic reality present significant challenge to operators addressing a lingering pandemic, as well as known and food safety and public health issues like flu or norovirus.
Over a year and half into the COVID-19 pandemic, restaurant operators are engaged in a careful balancing act — providing the same high-quality dining experiences with fewer staff, higher consumer expectations for cleanliness and ever tighter margins. A continuing labor shortage, combined with rising food and occupancy costs, have hit the industry hard at a time when many were hoping for an economic recovery. In fact, according to a recent National Restaurant Association survey, more than half of restaurant operators say business conditions are worse than three months ago and 44% think it will be more than a year before business conditions return to normal.
Caption: 44% of operators think it will be more than a year before business returns to normal
Restaurant operators may not optimistic, but Ecolab can help
Overall, more than half believe business conditions are worse now than three months ago.
Leading Ecolab's Institutional business, which provides comprehensive, innovative programs to restaurants throughout the world, I have seen countless restaurants facing these challenges. I'm proud to be part of a team working to help restaurants customers overcome them with the cleanliness practices that build consumer confidence and help lower total cost of operation.
Building Confidence Through Clean
One way that Ecolab can help bolster business is through programs that help provide a clean dining experience and increase customer confidence. A recent survey we conducted asked consumers what was important to them: 83% said maintaining a safe environment, 80% said helping prevent the spread of germs and 78% said protecting family and friends. 1
It's no secret that restaurants compete largely based on guest experience. Safety has now become a larger part of that experience. When returning to restaurants, consumers want to spend their money at businesses that share their concerns for cleanliness and commit to practices that protect public health.
What's important to consumers?
What impact does Ecolab Science Certified have?
We developed Ecolab Science Certified, a comprehensive, science-based public health and food safety program, to help give your employees and guests confidence that your operations are committed to a higher level of cleanliness. The program combines hospital disinfectants and other sanitizers, comprehensive public health and food safety training and procedures, and periodic auditing to help address consumer expectations for heightened cleaning practices. 73% of consumers Ecolab surveyed said having the Ecolab Science Certified seal shows them that businesses care about their health and 64% said they would be more likely to consider visiting a business if they had Ecolab Science Certified in place. 2
We offer one of the broadest portfolio of products, from hospital disinfectants to food-contact sanitizers, that are proven to kill the virus that causes COVID-19, along with a wide range of other pathogens.
Creating a high level of cleanliness is important to help encourage guests to dine out at your establishment, but that's only part of the solution.
Improving Operations
According to the National Restaurant Association, eight in ten restaurant operators say their staffing levels are lower than what they would normally be. Enhancing cleaning processes and providing high-quality customer experiences might seem daunting when faced with new employee challenges, but with the targeted solutions that help reduce onboarding time, rework and simplify cleaning tasks, businesses have the tools to improve operational efficiency in any environment.
Training has always been a unique challenge in the restaurant industry, and with the addition of new cleaning protocols and technologies, it can be even more difficult to ensure cleaning practices are being followed and implemented. Both our Ecolab Science Certified Program and other programs include flexible training, to help your new staff get onboarded and existing staff stay up to date with the latest public health guidance. The auditing component ensures that training is not "one-and-done," but is checked and evaluated periodically.
The right products can also make a difference when building an effective and efficient cleaning practice. Look for solutions that are easy-to-use, multi-purpose and are effective against a broad spectrum of pathogens. As a 2-1 solution, products like Ecolab's Sink & Surface Cleaner Sanitizer effectively clean and sanitize food surfaces while reducing steps in the cleaning processes. The solution is also effective killing a broad range of pathogens including the COVID-19 virus in 15 seconds and norovirus in 30 seconds.
Most importantly, restaurant operators that build a culture with cleanliness at their core will see a benefit for guests and employees. When you prioritize your team's health and wellness early and often, you can boost employee satisfaction, reduce absenteeism and mitigate the high costs of turnover. 3
While investing in enhanced cleaning protocols might shift your staff priorities and operations, a commitment to clean is a worthwhile investment, one that both helps meet guest expectation and protect your financial performance.
Footnotes
Source: "Post-Vaccine Consumer Attitude Study;" July 2021 (paid for by Ecolab) ↵
Source: "Post-Vaccine Consumer Attitude Study;" July 2021 (paid for by Ecolab) ↵