Ecolab Science Certified™ drives Checkers and Rally's toward ambitious goals through innovation and unmatched service
Our science-backed program has helped the restaurant chain outperform competitors and set a new standard for cleaning, sanitation and guest satisfaction.
There's no question that expectations for clean, safe spaces have risen in recent years, particularly in the food service industry. As restaurant operators look for ways to meet higher standards for both customers and employees, Ecolab has been able to help them reach their goals.
Our recent partnership with Checkers and Rally's, a quick service restaurant with more than 800 locations nationwide, serves as an example. When new leadership at the popular burger chain started looking for an innovative partner to help boost their cleaning and sanitation efforts, they saw in Ecolab a partner that matched their drive for innovation and industry leadership.
"We wanted to make sure that we were holding ourselves to a higher standard, not just habitually checking boxes," said Jenny Stice, Food Safety Manager at Checkers and Rally's. "We reassessed our strategic partnerships and thought Ecolab could support our efforts moving forward."
Multiple Ecolab divisions rose to the challenge, collaborating with Checkers and Rally's to implement our science-backed Ecolab Science Certified (ESC) program across all locations in 2021. Checkers and Rally's has already seen significant improvements since then, in both safety as well as staff and customer satisfaction. The restaurant group has also been able to outperform its closest competitor in sales, profitability, and Health Department scores.
The rollout
Checkers and Rally's has implemented ESC across all locations — approximately 850 stores spanning 29 states. The goal during the rollout was to get 90% of their restaurants certified in six months. "We achieved that in four," Stice said.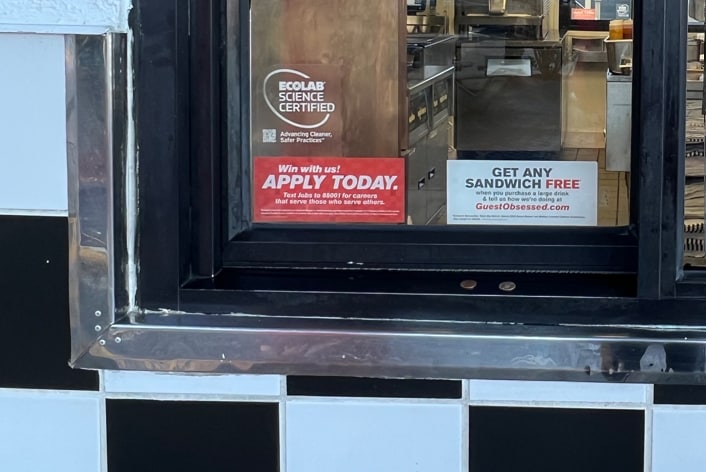 She attributes the success of the rollout to the education and customer service they received from Ecolab during the installation process.
"After the install, the technician would show the manager exactly how to use the products, the best place to store the chemicals and how they hooked up the sink," she said. "They answered questions, were patient with us and provided ongoing support. We've done rollouts before, but we've never experienced customer service like that."
Ecolab's offerings merged together naturally. Our program provided a comprehensive solution: the best products and procedures to optimize cleanliness and safety for staff and guests. And since Checkers and Rally's has a big franchise footprint, the ESC program provided consistency and easier management across locations.
"Ecolab Science Certified made perfect sense because you need to have a good pest program, you need to have a good audit program, you need to have a good chemical program and you have to use certain products," said Ecolab's Mark Buran, assistant vice president, Distribution and Corporate Accounts, Global QSR. "And because of their need for all of those things, that helped us win the business and quickly address their needs."
Jenny also believes that displaying the Ecolab Science Certified Seal in restaurant windows enhances customer confidence and brand experience. With nearly all of their restaurants being drive-through or walk-up only, the seal increases the visibility of their integrity and commitment to food safety.
Internally, the success of the program has improved staff morale.
"The certificate that Ecolab prints for the team was a really good motivator, especially at a time when staffing has been critical for everyone over the last year," Stice said. "But our staff put in the work and they've earned that certificate. We've really celebrated each one of those wins on our side."
Innovation and the future
Checkers and Rally's restaurants value innovative ways to enhance their operational efficiency. As an example, the company recently installed Artificial Intelligence (AI) in all of their drive-throughs, which frees up employees between orders. Ecolab products are also creating a major impact through better efficacy and reduced cleaning steps. At a time when staffing shortages are a real challenge, the time savings are huge.
"Our old degreaser needed to sit for hours," said Stice, as an example. "The new Ecolab one only needs to sit for 15 minutes."
Even small additions, like the Pest division's more compact fly light, are making a big impact as space is at a premium in the drive-through restaurants.
The boost in their associates' quality of life, the reassurance of their customers and the improvement of their overall operations has made Checkers and Rally's a long-term Ecolab partner.
"It's those types of things that continue to keep people interested and energized," Stice said. "And we're excited to make sure we grow with Ecolab, too."