A Differentiator in a Difficult Labor Market
A new study shows how the Ecolab Science Certified™ program is helping to attract talent, build culture and retain workers.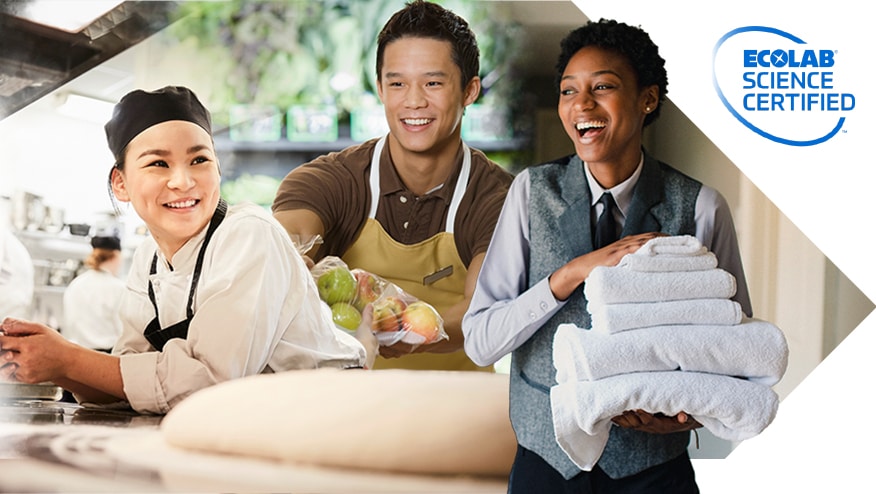 Ecolab Science Certified™ (ESC) is a comprehensive, science-based public health and food safety program that provides the products, protocols, training, and periodic audits to help ensure your staff and customers experience higher levels of cleanliness and the operational and business benefits that come with it.

With increased expectations for cleaning and food safety and continuing labor challenges, the program helps businesses deliver a higher level of cleanliness by combining hospital disinfectants and other science-backed cleaning solutions along with detailed training for associates.

In fact, a recent study conducted by Qualtrics on behalf of Ecolab, results showed that the ESC program can help attract talent, build culture, and help retain associates.

The study surveyed over 600 lodging, grocery and restaurant employees and when asked how the program was solving problems and creating a better workplace, feedback was overwhelmingly positive.

Some of the largest hospitality, food service, and food retail companies in the country participate in the ESC program. Our aim is to deliver science-backed cleanliness in the places we eat, stay, shop and play, and to advance best practices that promote food safety and public health. By providing training, products, and procedures, we can also help our partners alleviate potential labor issues.

Ultimately, the ESC seal communicates to employees that whether they are working at a local grocery store or a major hotel chain, they are experiencing a high level of cleanliness. The same goes for creating peace of mind for customers of these businesses.

Advancing a Cleaner Environment

The ESC program is aimed at creating an environment that satisfies both customer and guest needs. The recent study found:

88% of lodging employees say the ESC program signals that their employer cares.

80% of grocery employees say ESC makes them proud to go to work.

84% of restaurant employees say the ESC program creates a safer, healthier workplace.

Solving workplace challenges

Employee retention and recruitment is essential in any industry, but it has been especially challenging for industries like foodservice, hospitality, and others, especially as consumers expectations of clean and safe continue to rise. Participation in the ESC program can help create working environments that make people excited to come to work.

More than 92% of grocery, restaurant and lodging workers said that the ESC program solved problems they had at work, making them more likely to stay in their job.

The ESC program can help recruit new talent as well. Over 75% of employees surveyed said they would rather work at an ESC hotel, restaurant or grocery store, than at a non-ESC location. Employees' positive view toward the program means they are more apt to recommend working at an ESC partner.

To learn more about ESC and the many ways the program can help support businesses with a higher level of cleanliness, visit Science Certified Program | Ecolab


Study conducted in December 2022 and paid for by Ecolab.