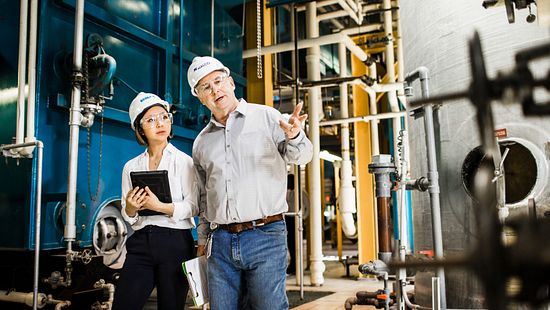 Automotive Engineered Solutions
At a nominal water use of 1,000 gal (3785.41 L) to build a vehicle, the automotive industry is highly water intensive. With the continuous growth of global middle class and the trends towards electric and autonomous vehicles, the need for sustainable mobility solutions is expected to grow, forcing auto manufacturers to produce more with less.
Nalco Water provides expertise in designing, building and operating customer engineered solutions that help minimize water use and operating cost in paint booth systems and the paint shop area while maximizing production throughput. 
Your Trusted Partner in Automotive Engineering
Focus on Automotive Production and Higher First-time Paint Quality
Leverage Nalco Water to help achieve operational and sustainability goals. Being an industry leader in water treatment chemistry, automation and digital controls, paint shop process and automotive engineering knowledge, Nalco Water is your trusted partner to:
Design, build and operate

Wastewater treatment systems to ensure safe and efficient discharge compliance. Nalco Water Nalmet™ chemistry and 3D TRASAR™ for DAF and wastewater systems allow proper management of heavy metals and BOD/COD removal.
Reuse and recycle solutions to maximize water savings. Recycle more than 50% of wastewater discharge. Proprietary ceramic membrane technology that allows robust operation even in oil and grease environment.
RO trailers and DI Systems to ensure the right quality and quantity of water for the pretreatment and e-coat stages

Retrofit, refurbish and upgrade

process systems
filtration systems
VOC carbon wheel change outs
Proven Water Treatment Success