Food Safety Superheroes: How Ecolab Associates Are Helping to Provide Safe Food
We have been stepping up to help protect public health in unexpected ways throughout the COVID-19 pandemic. Many of us have taken small actions that make a big difference, such as wearing a mask or getting vaccinated. And many food safety professionals continue to step up in big ways to help protect the public from foodborne illness and COVID-19. For U.S. National Food Safety Month, we are highlighting some Ecolab associates who are working tirelessly to help ensure safe food and safe spaces to enjoy our favorite meals. Meet a few of our food safety superheroes!
Food safety superhero: Allen B., field service specialist, EcoSure
Origin story: Allen has been immersed in proper food safety protocols as long as he can remember. He attributes it to growing up on a farm, where his family had cattle, pigs and chickens, so providing a healthy environment was essential. Later on, in his first job at a feed processing facility, he was introduced to the checks and balances that help ensure food safety and quality. But it wasn't until culinary college that he really understood what food safety meant on a larger scale by digging into the more technical aspects of how to provide diners with safe food. He first learned about Ecolab while working at a convenience store. As an Ecolab customer, Allen developed a great relationship with his EcoSure auditor, who explained the company's mission to help ensure safe food. Allen was attracted to the opportunity to build relationships with managers, owners and operators who rely on Ecolab's knowledge and expertise to help build a food safety culture within their business.
His superpower: Helping customers understand the role of personal hygiene in preventing the spread of illnesses and equipping them with the resources for proper hand hygiene.
His supervillain: Every day, Allen battles the millions of germs that hands can encounter.
The final battle: Allen's goal is to equip customers with the best knowledge to combat foodborne illnesses that can be transmitted through our hands. Throughout the pandemic, he has worked side by side with his customers to make sure they understand the importance of proper handwashing: washing hands for a minimum of 20 seconds in at least 100 degrees Fahrenheit water and lathering all areas of the hands. Using the COVID-19 Readiness Check, an auditing program to help evaluate compliance with cleaning and sanitation, sick leave, handwashing and social distancing practices, Allen can reinforce the importance of these public health best practices in foodservice locations, helping the industry combat the spread of COVID-19.
---
"The pandemic has reinforced why personal hygiene is so important. Our customers know we bring knowledge and expertise to the table. In the middle of this pandemic, our customers understood that there was one company that they could rely on to help them get through this."
---
Allen B.
Field Service Specialist, EcoSure
Food safety superhero: Douglas G., corporate scientist, Pest Elimination, Research, Development and Engineering (RD&E)
Origin story: Douglas has always been interested in bugs and science. He's been studying insects his entire career and for more than 22 years, has worked within Ecolab's Research, Development & Engineering (RD&E) function supporting its Pest Elimination business. Early in his career, he understood the importance of eliminating pests to help ensure food safety. Pests can spread bacteria and pathogens, increasing the risk of foodborne illnesses and other diseases.
His superpower: Predicting vulnerable areas where pests might cause a problem and innovating to solve those challenges.
His supervillain: During the pandemic, Douglas' biggest challenge has been reacting to changing food environments that could lead to increased pest activity. The way that we consume food has changed; as more outdoor dining areas, ghost kitchens and grocery delivery fulfillment centers open, so do new environments for pests to explore.
The final battle: Douglas has focused on food distribution and how we can protect against pests along every step of the food supply chain. He works closely with customers to develop solutions and protocols to prevent and respond to pest issues. Douglas and his team identify weak points in the system and provide science-backed solutions. Recent innovations from the Pest Elimination RD&E team include an improved method for detecting cockroaches and a new device to monitor for rodents in foodservice ceiling areas. His drive to innovate comes from a challenge to advance not only the pest management industry, but to push himself and his team to develop new solutions that benefit customers and ultimately, consumers.
---
"The pandemic has increased awareness and concerns around public health, and food safety is a natural extension. Keeping the food supply safe from pests has never been more important. As we move past the pandemic, we'll continue to see increased importance on protecting food supplies globally."
---
Douglas G.
Corporate Scientist, Pest Elimination, Research Development and Engineering (RD&E)
Food safety superhero: Mardy H., field service specialist, EcoSure
Origin story: Before Mardy joined Ecolab, she was a supervisor at a restaurant chain for 18 years. She had always understood the importance of food safety, but her real strength was being able to make food safety practices and procedures accessible for her team. Her role at Ecolab combines all the things she loved about being a supervisor: the emphasis on providing safe food, training and coaching managers and staff, and learning new things about food safety and public health.
Her superpower: Training and coaching. Mardy's ability to share complicated public health protocols in a relatable way helps the businesses she works with adapt and respond to tough challenges.
Her supervillain: The logistical challenges of reopening businesses after COVID-19 shutdowns. As businesses reopened, it was essential to make sure that all staff members were properly trained and aware of public health protocols to safely welcome back guests, making Mardy's role more important than ever.
Final battle: When a restaurant chain was ready to reopen, they knew to call on Mardy to help prepare multiple kitchens and hundreds of employees on proper food safety and public health protocols. Mardy provided COVID-19 guidance and walked them through how to complete protocols, stressing their importance for maintaining a healthy environment and correct use of disinfection and sanitization products.
---
"The pandemic has changed the way we think. We're no longer thinking about how our actions might affect ourselves, but instead, we're thinking about how our actions affect our coworkers, customers, other restaurants, even the state and country. Everything we do affects someone else, so we want to teach our customers the best way to safely protect others."
---
Mardy H.
Field Service Specialist, EcoSure


Related Food Safety Content
Reduce Common Foodborne Illness Risks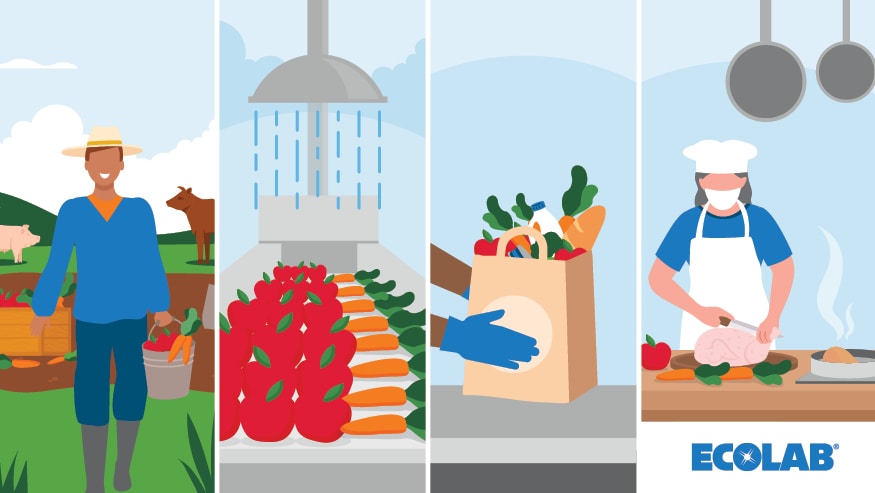 Keeping Our Guard Up Against Foodborne Illness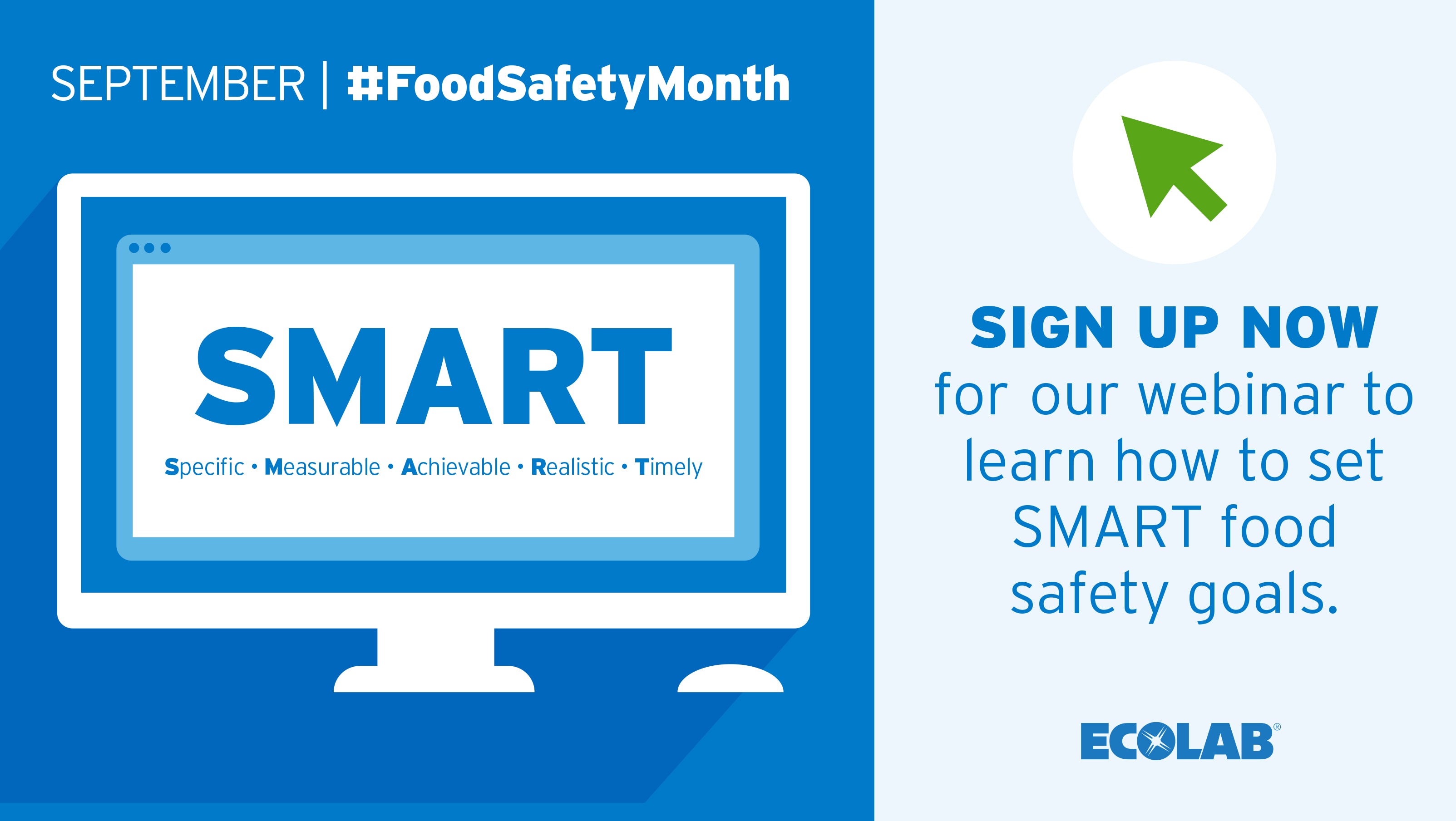 Setting SMART Goals to Build a Strong Food Safety Culture