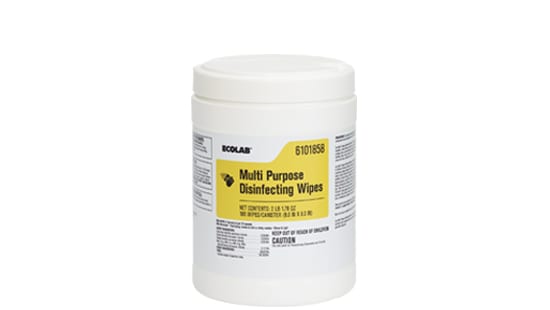 Multi Purpose Disinfecting Wipes
Keep staff and others in your facility healthy with quick, convenient disinfection of hard surfaces.
These multi-purpose disinfecting wipes help stop the spread of germs—and are effective against norovirus! They provide quick and easy cleaning and disinfection of high-touchpoint surfaces and are ideal for all types of facilities, offering a pleasant user experience for both staff and guests.
Multi Purpose Disinfecting Wipes are an EPA-Registered* disinfectant for general purpose.
Kills norovirus (10 minute contact time)
Safe for use on hard, non-porous surfaces
Reusable tub helps prevent moisture loss
Optimal disinfecting wipes for high touch-point areas
Download the Multi Purpose Disinfecting Wipes info sheet to learn more.
Multi Purpose Disinfecting Wipes Product Information