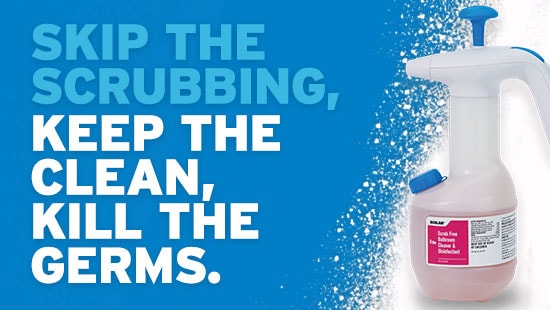 Ecolab's Scrub Free Bathroom Cleaner and Disinfectant
An Easier, Faster, and Safer, Scrub Free Bathroom Cleaner
Help your housekeepers and delight your guests with an easier, faster and safer way to clean commercial bathrooms using Ecolab's Scrub Free Bathroom Cleaner and Disinfectant.

Commercial slim bottle with a hand pump foaming nozzle filled with scrub free bathroom cleaner.
Skip the Scrubbing, Keep the Clean
The Ease of Use You Need
Scrub free, full-coverage bathroom foam cleaner that easily cleans and disinfects with daily use
The Safety and Efficiency Your Staff Deserves
Reduces physical effort, time spent in unsafe positions, and risk of injury to your employees
Saves up to 2 minutes per bathroom*
The Exceptional Results Your Guest Desire
Leaves surfaces clean and shiny, with a pleasant scent
Delivers 5-minute hospital disinfection2
Kills SARS-CoV-2 — the virus that causes COVID-19 — in 2 minutes2
---
1Source: Biometric Performance Testing, United States Ergonomics, Sponsored by Ecolab 2017. Using Scrub Free Foamer and Ecolab Housekeeping Tools as directed.
2 When used according to directions for use. Refer to EPA master label #1677-256
Download the Scrub Free Brochure Today
EPA-registered scrub free bathroom cleaner and disinfectant for use on tubs, showers, counter tops, toilets and sinks.
High Performance Solution + Ergonomically Designed Foamer = Scrub Free Cleaning
See How Scrub Free Bathroom Cleaner Works
Check out this easy to follow wall chart for your housekeeping staff (English / Spanish)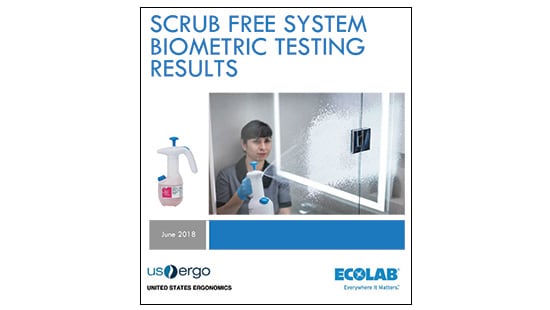 Scrub Free System Biometric Testing Results — Whitepaper



Helping You Clean More Efficiently with Confidence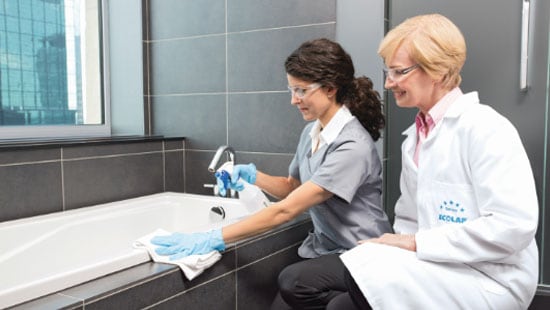 Housekeeping Training Program for Hospitality