No/Low Maintenance Flooring Cleaner and Protector for Hospitals
Unique, No/Low Maintenance Flooring Cleaner and Protector for use on luxury vinyl tile (LVT), laminate, rubber and other low maintenance floors. This daily-use formula from Ecolab will clean and restore the appearance of your hospital or healthcare facility floors and is ideal as a floor protector for repairing minor scratches. Our floor cleaning solution in hospitals is a great and easy-to-use LVT floor cleaning investment.
An easy-to-use floor cleaner that protects your flooring investment
A simplified no low maintenance floor cleaner to help protect your floors, without adding any gloss and resists dulling.
Repairs minor scratches without applying traditional floor finish or requiring additional maintenance steps like burnishing.
A floor protector that preserves your flooring investment by preventing expensive restoration or flooring replacement.
Convenient, safe and flexible to use with mop and bucket, auto scrubber or spray application.
| Product Name | Dilution Rate | Product Size | Part Number |
| --- | --- | --- | --- |
| No/Low Maintenance Flooring Cleaner and Protector | 0.5 oz / gal to 3 oz. / gal | 4-1 Gallon | 6000250 |
| No/Low Maintenance Flooring Cleaner and Protector | 0.5 oz / gal to 3 oz. / gal |  2.5 Gal |  6101941 |
| No/Low Maintenance Flooring Cleaner and Protector | 0.5 oz / gal to 3 oz. / gal |  6 x 64 oz. |  6101946 |
| Ultra Concentrated No/Low Maintenance Flooring Cleaner & Protector (QC 36) | 0.25 oz / gal to 1.5 oz. / gal | 2 x 1.3 L  |  6101945 |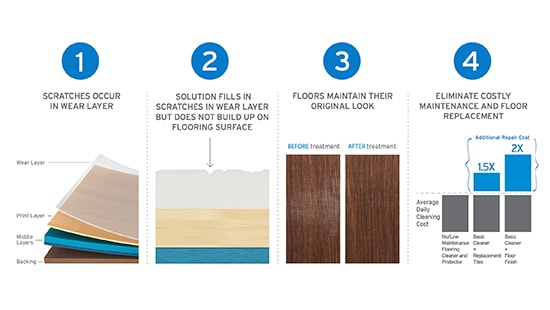 Reverse the visual effects of standard wear and tear of no/low maintenance floors 
Related Cleaning Solutions for Environmental Hygiene for Hospitals