Neutral Disinfectant Cleaner for Healthcare
Ecolab's Neutral Disinfectant Cleaner is neutral pH and dual-chain quaternary ammonium-based. It is a one-step disinfectant/detergent/deodorant with bactericidal, virucidal and fungicidal efficacy. 10-minute contact times for broad spectrum of microorganisms.

Product Details
Neutral Disinfectant Cleaner is a multi-purpose, neutral pH, germicidal detergent and deodorant effective in hard water up to 200 ppm in the presence of a moderate amount of soil (5% organic serum) according to the AOAC Use-Dilution Test.
Disinfects, cleans and deodorizes the following hard nonporous inanimate surfaces: floors, walls, metal surfaces, stainless steel surfaces, glazed porcelain, plastic surfaces.
Can be used to clean and disinfect nonporous personal protective safety equipment. 
Neutral Disinfectant Cleaner is effective at eliminating odors on porous surfaces such as upholstery, drapes, carpets, bedding, shower curtains, and mattresses.
| Product Size | Part Number |
| --- | --- |
| 4-1 Gallon | 6027314 |
| 2.5 gal | 6101205 |
| 2 - 1.3 L | 6114541 |
| 50 x 1 oz. Pourpak | 6100836 |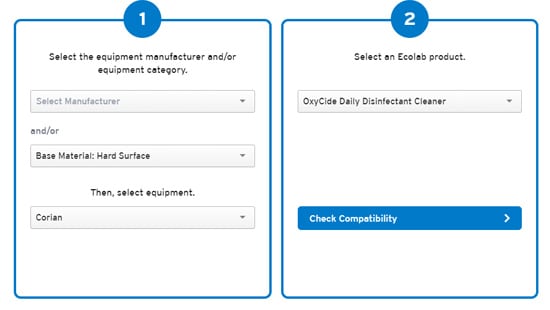 NEW! Equipment Compatibility Cross Reference