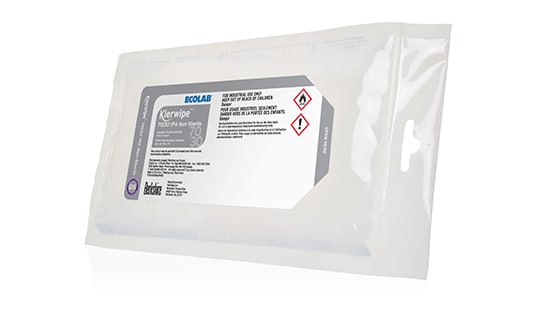 Klerwipe™ 70/30 IPA
Non-Sterile Pouch Wipe

(Low Particulate Polyester Cellulose)
Ecolab Klerwipe™ 70/30 IPA Non-Sterile Pouch Wipe is a ready to use non-sterile wipe made of low particulate non-woven polyester/cellulose (55% cellulose/ 45% polyester). Klerwipe 70/30 IPA Non-Sterile Pouch Wipes are pre-saturated with 70/30 IPA and Deionized (DI) water. This wipe is a rapid solution for cleaning hard surfaces in cleanrooms and associated areas. Packaged in a resealable pouch, each pouch contains 75 wipes that provide high absorbency and consistent application. For optimum results, ensure complete wetting of surfaces. Re-seal package when not in use.
Features & Benefits
Efficiency: Large pack ideal for high sessional use.

Health & Safety: No need to spray and wipe, decreasing the risk of alcohol inhalation.

Use: For use on hard surfaces in cleanrooms and associated areas.

Format: Available as pouch wipes. Open and reseal with peel-able covering.

Related Cleanroom Solutions
Learn more about how Ecolab's Cleanroom solutions can help your facility produce safe, compliant products that exceed patient standards, measurably improve operational efficiency and help achieve sustainability goals.
No related solution pages were found.