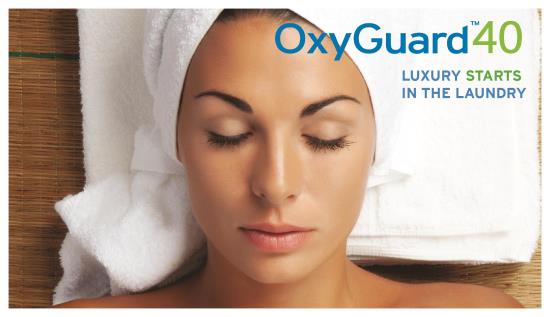 OxyGuard™40 Hospitality
Laundry Program
Our high performance, low-temperature, sustainable solution for hospitality wash programs.
When guests arrive at a hotel or spa, they expect clean, bright-white, stain-free linens. Your laundry operation plays an indispensable role in delivering on those expectations. To help you meet the high standards of your customers, use OxyGuard™40, a linen detergent formulated for hospitality laundry programs.
Why Choose OxyGuard™40
Linen Detergent?
Lower Operational Costs
OxyGuard™40 effectively disinfects and brightens linens at 104ºF (40ºC), a significantly lower temperature than standard detergents require. Lowering the temperature helps you cut energy costs.
Keep Linens White and Bright
OxyGuard™40 is engineered with advanced molecular technologies to deliver exceptional whiteness.
Extend Linen Life
OxyGuard™40 is gentle yet effective, to help linens and towels last. Superior fiber protection keeps linens softer longer, and reduces lint build-up.
Extend Equipment Life
When you wash as a lower temperature, there's less stress on the boiler system and other equipment.
Meet Sustainability Goals
OxyGuard™40 is sustainably engineered with no NPEs, VOCs, phosphorus or environmental byproducts.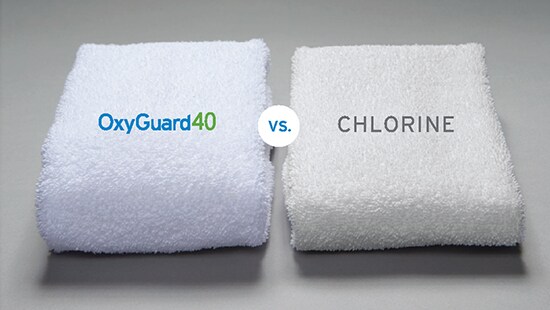 Superior Whiteness and Softness After 50 Washes
Case Study:
OxyGuard™40
A large commercial launderer needed a new boiler to heat water to the 160ºF they used to whiten linens. Ecolab introduced OxyGuard™40, which enabled the company to brighten whites at just 104ºF. The lower temperature saved them $20K annually in energy costs, and helped them avoid the costly purchase of a new boiler.
Download Full Case Study

Related Solutions
This is a carousel. Use Next and Previous buttons to navigate, or jump to a slide with the slide dots.
No related solution pages were found.