NXP Semiconductor saves 7.2 million gallons of water per year with 3D TRASAR™ Technology for Cooling Water
Background
NXP Semiconductor is a major manufacturer of MEMS, microcontrollers, radio frequency transceivers and amplifiers. At their Austin, Texas, facility, the fab has a cooling tower in a central utility system, supporting the chillers that supply process cooling water to the fab. Like most semiconductor manufacturers, NXP has strong environmental and local community commitments.
The fab's biggest challenge was finding a way to reduce water use and discharge without jeopardizing utility support functions.
One obvious option is to reclaim water from the fab's processes for use in the utility center's cooling towers. However, this could only work with protections against contaminants in the fab's reclaimed process water. Such contaminants include phosphates, fluorides, sulfates, chlorides, ammonia and silica, as well as naturally occurring hardness (calcium and magnesium), which can increase the risk of corrosion, microbio and scale in the cooling water system. An adaptable water treatment program is key to managing these risks as well as optimizing the related mechanical, chemical and operational conditions.
Solution
Through in-depth discussion with NXP personnel, the Nalco Water team gained a solid understanding of the reclaimed water streams. In response, Nalco Water proposed a 3D TRASAR Technology for Cooling Water program, which uses three major innovations to provide flexible control for microelectronics fabs:
Real-time corrosion monitoring and control
Chemistry that outperforms traditional polyphosphate scale and corrosion inhibitors
Tagged and inert fluorescent polymers that enable the chemical program to adapt in real time to changes in stress
In addition to the 3D TRASAR program, NXP and Nalco Water implemented a process that included complete overhaul of automation systems.
Chemical delivery and storage systems
The Nalco Water PORTA-FEED™ system drastically reduced the number of chemical drums on site, thereby reducing drum handling for NXP staff.
New chemical treatment program automation
The equipment associated with the 3D TRASAR Technology for Cooling Water program occupied a much smaller physical footprint than NXP's previous chemical control automation and feeding system. This space-saving design contributed to a much tidier appearance and less clutter in this area of the fab.
Results
After switching to the 3D TRASAR program, corrosion rate was reduced by 93% and real-time corrosion data is now provided.
The 3D TRASAR program includes support from the Ecolab Global Intelligence Center (EGIC), which monitors performance trends, reviews alarms and troubleshoots systems 24/7. The EGIC can contact local Nalco Water personnel or fab staff to initiate corrective action before a small problem becomes a large incident.
The 3D TRASAR program's ability to tolerate variable water quality enabled the fab to increase the cycles of concentration in the cooling tower from 7 to 15. The program also enabled NXP to use more reclaimed water.
Municipal water consumption was reduced by 7.2 million gallons (27,250 m3) annually, resulting in cost savings of $23,680.
Discharge flows were reduced by 8.5 million gallons (32,180 m3) annually, resulting in $47,185 of additional cost savings.
Labor to operate the program was also optimized, saving $30,000 and allowing operations staff to focus on higher value tasks. Overall program costs were reduced by $14,000 as well. Lastly, the project came in under budget, ahead of schedule and exceeded savings targets.
Taken together, the significant benefits of the 3D TRASAR Cooling Water program are valued at $114,865 per year. Water


7.2 million gallons*

Reduced municipal water per year

Waste


8.5 million gallons*

Reduced wastewater discharge per year

Productivity


$30,000 per year*

Via optimized operational labor

Total Value Delivered:
USD $114,865 annually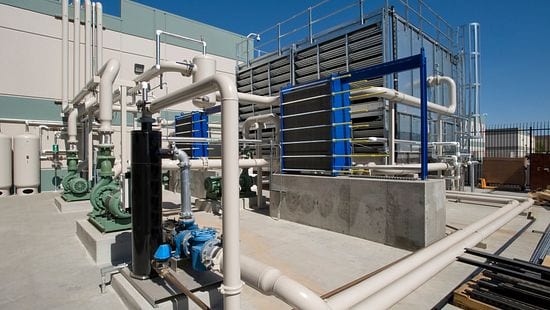 3D TRASAR™ Technology for Cooling Water
This is a carousel. Use Next and Previous buttons to navigate, or jump to a slide with the slide dots.
No related success stories were found.