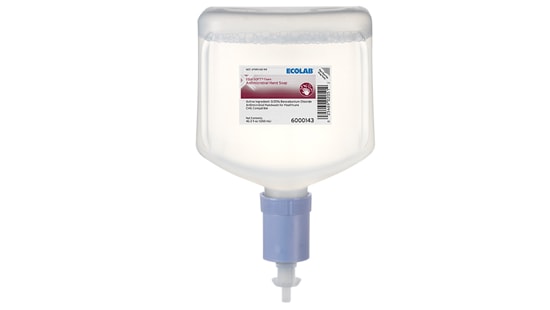 Equi-Soft™ Foam Hand Soap
Ecolab's antimicrobial hand soap (0.55% Benzalkonium Chloride) that is clinically proven to deliver the efficacy of a medicated soap with the mildness of the market leading non-medicated soap.

Product Details
Paraben-free and dye-free formula helps reduce the opportunity for irritation and allergic reaction

0.55% Benzalkonium Chloride formula clinically proven to exceed FDA requirements for Healthcare Personnel Handwash

2

Efficacy against standard healthcare micro-organisms as well as MDR Acinetobacter, VRE, CRE and multiple strains of MRSA

3

Gentle foam rinses easily to remove residues that can lead to irritation

Proven to be as mild as the market leading non-medicated hand soap

1,2

Triclosan-free formula empowers you with an alternative for your antimicrobial hand soap needs
1BioScience Laboratories Inc., Study No. 131072-301, June 2014
2BioScience Laboratories Inc. Study No. 140436-101, August 2014
3In vitro testing data on file
| Product Size | Part Number | Dispenser Type |
| --- | --- | --- |
| 4-1250 mL | 6000143 | Nexa |
| 8-1200 mL | 6000146 | Next Generation |
| 6-750 mL | 6000144 | Nexa |
| 6-750 mL | 6000149 | Foam (Tango) |
| 12-535 mL | 6000185 | n/a (tabletop) |
What is the active ingredient in Equi-Soft Foam?
The active ingredient in Equi-Soft Foam is benzalkonium chloride, which is a type of quaternary ammonium compound (quat). Equi-Soft Foam uses a 0.55% concentration of benzalkonium chloride.
Some hard surface disinfectants are quaternary ammonium compounds. Is it safe for me to use a product that contains quat on my skin?
Yes. It is safe to use products that contain quaternary ammonium on your skin.
Quaternary ammonium compounds have been used in skin care products since the 1930's. In addition to hand soap, benzalkonium chloride is the same ingredient used in many common consumer products, including eye drops (Visine®), nasal sprays, antiseptic wipes, mouthwashes, and wound antiseptics (Bactine®).
Could this soap cause an allergic reaction?
Often what is thought to be an allergic reaction to skin care products is actually irritation or contact dermatitis. It is unlikely that using Equi-Soft Foam would cause a true allergic reaction. Equi-Soft Foam was formulated to be gentle. Clinical testing has demonstrated that the formula offers the mildness of the market leading non-medicated soap.
As with any hand hygiene product, if you experience skin irritation, please contact your Ecolab representative.
Are there any adverse effects of extended use of quat similar to the concerns with triclosan?
The concerns regarding the long term effects of triclosan are based specifically on its chemistry. Benzalkonium chloride (the active ingredient in Equi-Soft Foam) is substantially different than triclosan.
Benzalkonium chloride has been used in personal care products for decades with no known concerns.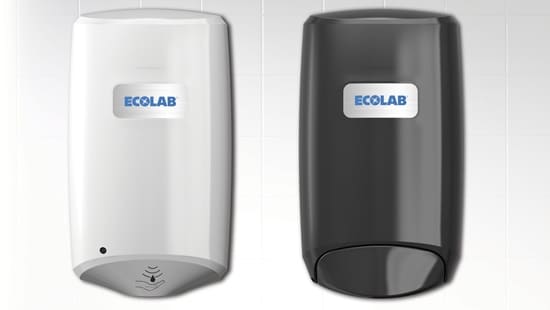 Nexa™ Hand Hygiene Dispensers