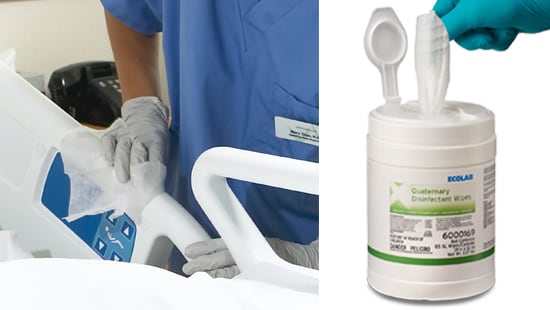 Quaternary Disinfectant Wipes
Ecolab's Quaternary Disinfectant Wipes combine fast kill times with excellent material compatibility in a single wipe.

For use in critical areas where control of the hazards of cross contamination between treated surfaces is of prime importance.*


*Refer to product label for recommended areas for use.

Product Details
Fast Kill Times
2 minute contact time allows for quick room turnover

Stays wet on surfaces; making compliance simple

Broad-spectrum of 44 kill claims
Excellent Material Compatibility
Non-alcohol, quat based formula

Large (6" x 6.75") and extra-large wipes (9" x 12")


Plastic coupons were wrapped in different types of wipes including: Quaternary Disinfectant Wipe, a 55% high alcohol based wipe and a hydrogen peroxide based wipe. The wipes were stored in sealed containers for one week and then were rinsed with deionized water.
Quaternary Disinfectant Wipes did not cause any damage. The use of high alcohol wipes resulted in irreversible corrosion and whitening. The use of hydrogen peroxide wipes resulted in residue that was not removed with rinses of deionized water or isopropanol.
| Product Size | Part Number |
| --- | --- |
| 12 x 85 XL Wipes | 6000169 |
| 12x220 Wipes | 6000166 |