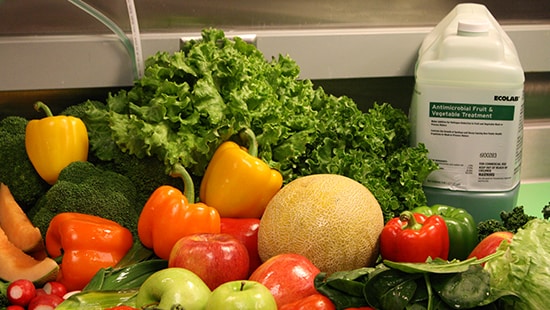 Antimicrobial Fruit and Vegetable Treatment
Ecolab's Antimicrobial Fruit and Vegetable Treatment is a no-rinse produce wash which reduces 99.9% of the pathogens E. coli, Listeria and Salmonella in produce wash water.* It is the foodservice industry's first no-rinse produce wash to be cleared by both the EPA and FDA.


When used at its registered concentration, Antimicrobial Fruit and Vegetable Wash Treatment requires no rinsing, has no aftertaste or smell, and gives produce an improved crisp texture.
The wash treatment is Generally Regarded As Safe (GRAS) and has been cleared by the FDA as a no-rinse application. Ecolab's unique dispensing design for the Antimicrobial Fruit & Vegetable Treatment is employee friendly, offers visual verification that the product is dispensed, and controls the concentration of treatment for effective and consistent washing.
Fruit and Vegetable Product Information
| Product Code | Pack Size |
| --- | --- |
| 6100777 | 9.46 L |
Features and Benefits:
Reduces 99.9% of the pathogens E. coli, Listeria and Salmonella* in wash water**
Is FDA clearance and EPA registered
Is effective on both whole and further processed produce
Reduces harmful pathogens* on the surface of fresh cut produce and in wash water
Cleans off waxes and residues
Controls (kills) spoilage organisms, extending produce shelf life and reducing waste
Does not require a rinse
Unique dispensing design is easy to use, provides employees with visual verification that product is dispensed, and controls the delivery of antimicrobial concentrations for effectiveness and consistent results.
*Pathogens: Escherichia coli O157:H7, Listeria monocytogenes and Salmonella enterica
**For fruit and vegetable raw agricultural commodities (RACs) when used according to the label instructions

The Difference Is Clear
Washing your fruits and vegetables in AFVT gives them a cleaner, brighter look and ensures you're covered against any food safety risks.
Fruit and Vegetable Video Gallery
Antimicrobial Fruit and Vegetable Treatment Video
Antimicrobial Fruit and Vegetable Treatment Demo
Fruit and Vegetable Wash Information Downloads
Antimicrobial Fruit and Vegetable Treatment Sell Sheet