Asepticare™ TB II
Ecolab Asepticare TB II is a dual-quaternary ammonium/alcohol germicidal disinfectant. Powerful, broad spectrum kill, including TB. Microbiological efficacy in a convenient, ready-to-use form for your hospital or health care facility.
Product Details
Dual quaternary/alcohol formula
Effective kill of microorganisms as indicated on the product label
Effective against:
Tuberculosis in 6 minutes
Hepatitis B Virus (DHBV) in 3 minutes
Vancomycin-resistant Enterococcus faecalis (VRE) in 5 minutes
Canine Parvovirus effective in 5 minutes
Virtually odorless- helps to make a more comfortable environment for patients, staff and general public
Ready-to-use - no mixing, spilling or over-use; helps save time and labor
| Product Size | Part Number |
| --- | --- |
| 12-32 oz | 06021521 |
For use in: medical facilities (such as dental offices, hospitals, ophthalmic/optometric facilities, out-patient surgical center), veterinary and animal care facilities
For use to clean, deodorize and disinfect such items as: dental chairs/countertops/instruments/implements/OR surfaces, laboratory equipment /surfaces, operating room lights/tables, veterinary care surfaces/instruments/implements.
This product may be used on all hard, non-porous environmental surfaces/articles including: Chrome, Formica®, glass, painted surfaces, plastics (such as polycarbonate, polyvinylchloride, polypropylene and polystyrene), Plexiglas®, porcelain, stainless steel and vinyl.
This product is not to be used as a terminal sterilant/high level disinfectant on any surface or instrument that (1) is introduced directly into the human body, either into or in contact with the blood stream of normally sterile areas of the body, or (2) contacts intact mucous membranes but which does not ordinarily penetrate the blood barrier or otherwise enter normally sterile areas of the body. This product may be used to preclean or decontaminate critical or semi-critical medical devices prior to sterilization or high level disinfection.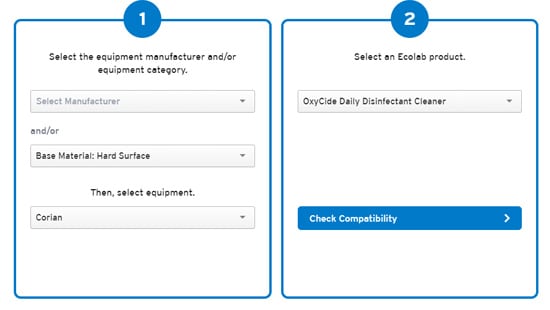 NEW! Equipment Compatibility Cross Reference