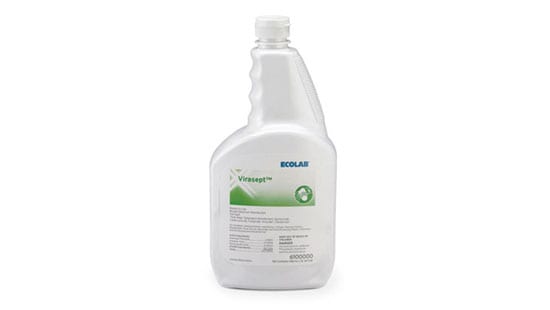 Virasept™
Ecolab's patented, peracid mixture, ready-to-use cleaner, deodorizer and hospital disinfectant is an all-in-one sporicide, virucide, bactericide, tuberculocide and fungicide. It is effective against a broad spectrum of organisms, including
Clostridioides difficile
(
c. diff
) endospores,
Candida auris*
,
Legionella pneumophila*
,
Listeria monocytogenes*
as well as
Staphylococcus aureus
and
Pseudomonas aeruginosa
biofilms* and a list of other tough-to-control fungi and pathogens. It is also included on
the Environmental Protection Agency's (EPA) List N: Disinfectants for Use Against SARS-CoV-2
.
1
Product Details
Virasept™ is a patented ready-to-use, "one-step" Detergent-Disinfectant, Virucide, Bactericide, Tuberculocide, Fungicide and Sporicide that delivers effective cleaning, disinfecting and malodor control. The unique chemistry is formulated for use in daily maintenance programs and will not harm fixtures.
Virasept™ is recommended for disinfecting and cleaning floors, walls, and other hard non-porous environmental surfaces such as tables, chairs, countertops, bed rails, bathroom fixtures, sinks, shelves, racks, carts, the exterior of refrigerators, non-food contact surfaces of coolers, glazed tile, linoleum, vinyl, glazed porcelain, plastic (such as polyethylene, polypropylene, polyvinylchloride, and polycarbonate), metal, stainless steel, chrome, glass and painted or varnished surfaces.
Virasept™ effectively cleans, disinfects and deodorizes bed rails, wheelchairs, wash basins, bed pans and non-critical medical equipment surfaces in hospital (medical and healthcare) facilities.
This product is not for use as a medical device sterilant or high level disinfectant.
Virasept disinfects, cleans and deodorizes surfaces in restroom and toilet areas, garbage cans and garbage storage areas, and other listed places where bacterial growth can cause malodors.
Virasept™, when applied with a foamer, effectively kills Pseudomonas aeruginosa and Staphylococcus aureus biofilms* in wastewater drains.
Virasept™ will not harm finished floors.
| Product | Description | Part Number |
| --- | --- | --- |
| Virasept RTU | 12 - 32 oz. bottles (US Only) | 6002314 |
| Pump-Up Foamer | Foaming applicator (for drains) | 53002745 |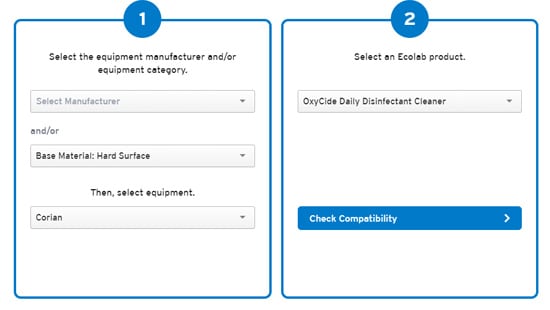 NEW! Equipment Compatibility Cross Reference
*These claims are pending approval in some states at time of publishing (11/16/20). Please check with your account representative for updated information.
1 Virasept meets criteria for claims against emerging viral pathogens and therefore can be used against COVID-19 when used in accordance with the directions for use against the listed supporting virus on hard, non-porous surfaces.
2 Carling PC. Wastewater drains: epidemiology and interventions in 23 carbapenem-resistant organism outbreaks. Infect Control Hosp Epidemiol. 2018 Aug;39(8):972-979. doi: 10.1017/ice.2018.138. Epub 2018 Jun 28. Review. PubMed PMID: 29950189.
3 BW, Graham MB, Lindmair-Snell J, et al. The relevance of sink proximity to toilets on the detection of Klebsiella pneumoniae carbapenemase inside sink drains. Am J Infect Control 2019;47:98–100.
4 Kizny Gordon AE, Mathers AJ, Cheong EYL, et al. The hospital water environment as a reservoir for carbapenem-resistant organisms causing hospital-acquired infections—a systematic review of the literature. Clin Infect Dis 2017;64:1435–1444.