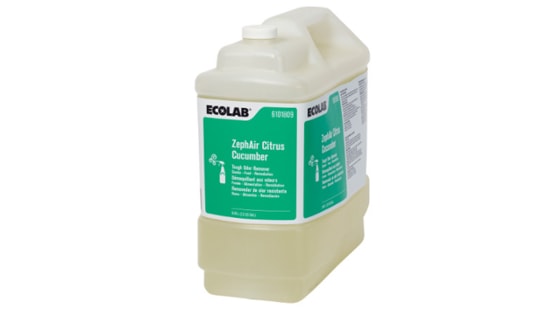 ZephAir™
Odor Remover
A tough odor remover designed to eliminate odors on soft surfaces such as carpet, rugs, upholstery, curtains, clothes, and other fabrics.
Enhance the guest experience of a clean and fresh room.
Avoid potential revenue loss from room shutdown due to malodors.
Specifically formulated for the type and strength of odors found in hospitality and long-term care settings, office buildings, schools and more, delivering odor fighting power that consumer alternatives simply can't match.
Three Fragrances to Choose From:
All products are effective against smoke and food odors such as cigarettes, tobacco, garlic, onions and curry.
Zephair™ Citrus Cucumber is a fresh melon scent with a hint of citrus and cucumber. Uniquely effective against cannabis smoke. Up to 40% more effective than leading competition*.
(6101807, 6101808, 6101809)
Zephair™ Mountain Mist is a fresh, brisk and clean fragrance.
(6112043, 6100984, 6100985)
Zephair™ Clean White Cotton mixes breezy air, a touch of floral and hints of jasmine.
(6100129, 6100132, 6100133)

*Source: Malodor Reduction Efficacy Testing Report, St. Croix Sensory, Sponsored by Ecolab July 2017