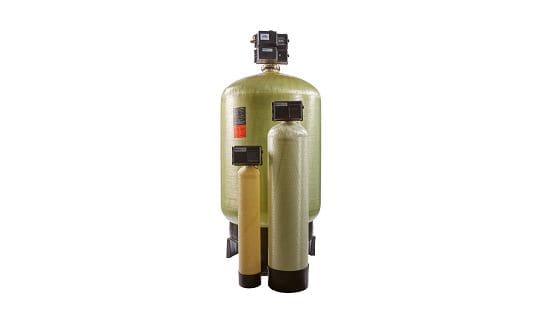 Industrial Water
Treatment Tanks
Nalco Water offers water treatment tanks for new applications and replacements for existing systems. This includes water softener tanks, brine tanks and pressure vessels used for industrial or commercial water treatment applications.
As a manufacturer of complete water treatment systems, our engineers can design a water treatment replacement tank (including water softener tanks and filter tanks) to original specifications or modify it to meet custom needs.
Our engineers can also assist in the selection of the correct tank material, replacement internal distributors and underdrains, ion exchange resins and filter media for the replacement tank. Whether purchasing new or upgrading, we can supply any industrial water treatment tank need.
Water Tank Offerings
Nalco Water offers a variety of both standard and custom water treatment tanks:
ASME Code and Non-Code Steel Tanks and Pressure Vessels
Custom ASME code and non-code tanks and pressure vessels are used for commercial, industrial and municipal water softeners, filters, dealkalizers, and deionizers/demineralizers. These lined or unlined tanks are available in carbon steel, stainless steel or galvanized, with several available linings. Our standard tanks and pressure vessels are rated at 100 psi with test at 150 psi.
Fiberglass-reinforced Plastic and Polyethylene/Fiberglass Water Softener Tanks
FRP and polyethylene/fiberglass tanks are used for water softeners, filters, or deionization (DI) exchange systems. We feature structural PE poly glass tanks which have a molded inner shell of high-density polyethylene over-wrapped with fiberglass for high durability and strength.
Composite Fiberglass Industrial and Commercial Tanks
If steel is not an option, we can supply structural composite tanks that offer composite fiberglass construction for outstanding performance and durability in harsh chemical environments. With sizes up to 63 inches in diameter and a variety of options, we can tailor a vessel to meet your needs, whether it's a water softener tank, filter tank or other water treatment tank. Structural ASME code fiberglass tanks are also available.
Polyethylene and FRP Brine Tanks
Polyethylene and FRP water softener brine tanks are used for the storage of salt and brine. We offer brine tanks for all commercial, municipal and industrial water softening applications.
Internal Collectors and Distributors
PVC, CPVC, polypropylene or stainless steel internal collectors and distributors can be supplied for all tank applications.



Water Pretreatment Services
This is a carousel. Use Next and Previous buttons to navigate, or jump to a slide with the slide dots.