Training for Food Processors
Making the right sanitation choices has never been more critical to protecting food safety and product quality. Regulatory compliance in the food and beverage processing industry is challenging and you shouldn't have to manage it alone.
Our breadth of resources and integrated business model help ensure consistency across your operation. Ecolab SQF and BRC consultants can help you get ready for your certification or re-certification audits by objectively testing your system. All courses are delivered by registered trainers and can be delivered at your site in English and Spanish.
Food Safety Training
Ecolab offers a broad spectrum of food safety training programs that help strengthen food processors' safety and quality programs addressing the building blocks for food safety and implementing GFSI-recognized food safety management systems. Our food processing training programs are suited for plant managers and supervisors, quality assurance teams, food safety personnel and food plant maintenance personnel. For more information on food safety management programs and consulting services, or to inquire about on-site training at your location for large groups, email us.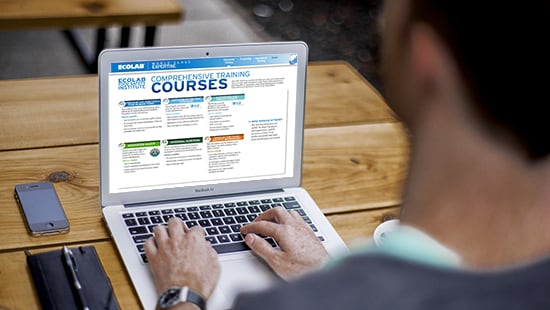 Ecolab Nalco Customer Learning Center
Sanitation Food Safety Workshop Online