2021 Food Safety Expert
Authored Articles
2021 Food Safety Authored Articles
Sanitizers and Disinfectants: A Retail Food and Foodservice Perspective
Authors: Angela M. Fraser, Jeffrey Anderson, Juan Goncalves, Elaine Black, Anna Starobin, David Buckley, Dale Grinstead, Chip Manuel and Jill Hollingsworth
Publication: Food Protection Trends, May 2021. 41(3): 358-367
Abstract: This paper explores how cleaning, sanitizing and disinfecting have been in the spotlight since the onset of the COVID-19 pandemic, and stresses how sanitizers and disinfectants, when used properly, can help keep food retail and foodservice operations safe from infectious disease pathogens. Ecolab food safety experts Elaine Black, Anna Starobin and Jill Hollingsworth are among the authors.
Sanitation strategies to protect product from cross-contamination
Authors: Jeremy M. Adler, PhD, John H. Hanlin, PhD
Publication: International Food & Meat Topics. 32(3): 18-19
Abstract: In the latest issue of International Food & Meat Topics, Ecolab food safety experts Jeremy Adler, PhD., and John Hanlin, PhD., discuss control strategies to protect food products from pathogens and cross-contamination. Pathogens such as salmonella, shiga-toxin producing Escherichia coli, and Listeria monocytogenes have been found on a wide variety of food contact and non-food contact surfaces within food processing plants and can cause illness and possibly death if consumed on contaminated product. Dr. Adler and Dr. Hanlin discuss sanitary design, the challenges of biofilms, cleaning and sanitation strategies, and effective environment monitoring.

Related Articles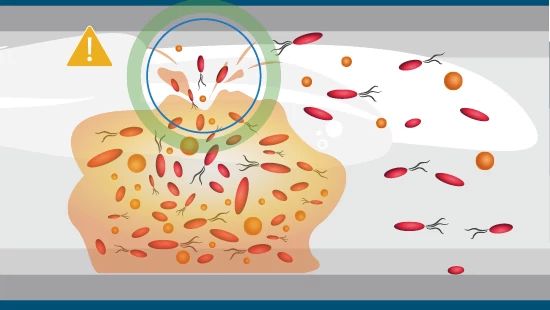 Reduce Common Foodborne Illness Risks