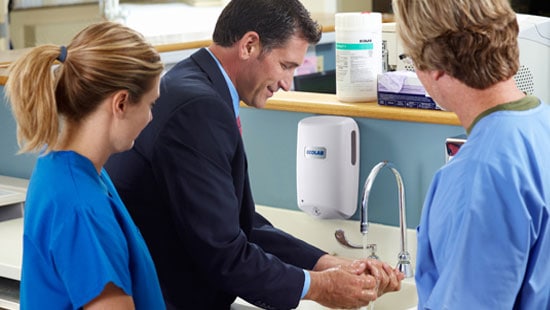 Hand Hygiene Resources
Clean hands help protect patient health. Making good hand hygiene a habit is one of the most important ways to protect patient health.
Studies and Publications 
A comparison of antimicrobial efficacy of alcohol based hand rubs: Impact of product format and active concentration
Authors: Littau C., Burns N., Wegner J.
Publication: Presented at 2013 APIC Annual Conference
---
Use of an extended controlled application technique model to evaluate skin compatibility of a new alcohol based hand rub
Authors: Littau C., White B., Wegner J
Presented at 2013 APIC Annual Conference
---
Comparison of waterless alcohol-based hand antiseptics on moisturization efficacy in subjects with dry skin
Authors: K. Thompson, RA Harpeher, PhD., T. Vella, RN, DS DeVorn BS, M Hendricks, MBA
---
Investigation of the effects of consumer market lotions versus professional grade lotions in combination with alcohol hand antiseptics: a comparative study of skin health effects and glove compatibility
Authors: Littau C., Thompson K
---
Guidelines & Recommendations
WHO Guidelines for Hand Hygiene in Healthcare (2009)
CDC Guideline for Hand Hygiene in Healthcare Settings (2002)